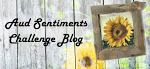 Theme:
Thank you + Sentiment
I print the images onto tissue paper. To get them through the printed I tape the tissue paper a third of the way down on printing paper. I cut the images close not showing too much tissue. I use a hair dryer and waxed paper to hold into place once you see the candle start to melt stop. Buff with your hand you can use a heat gun but I have not got one..
 (Don't forget the sentiment!)
Please use an APPLICABLE SENTIMENT!
and see all the other wonderful DT creations.