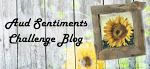 Theme: Theme:
Funny Sentiment
Die'sire Decorative corner embossing folder and Cuttle bug Leaf embossing boarder. I printed the image onto the card stock. The image is
Stella Mail Packages
courtesy of our sponsor
Bugaboo Stamps
Aurora
coloured with promarkers
 












 (Don't forget the sentiment!)
Please use an APPLICABLE SENTIMENT!
and see all the other wonderful DT creations.