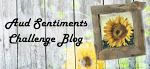 Theme:
Anything Goes + A Sentiment
Papermania Capsule Collection French lavender Papers The image is
Pussy Cat Luv
.
from
Robyn's Fetish
coloured with promarkers. Nestabilities Dies Scalloped Labels, Sue Wilson Striplet CreationX cut sentiment die
 (Don't forget the sentiment!)
Please use an APPLICABLE SENTIMENT!
and see all the other wonderful DT creations.