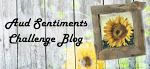 Theme:
Fall Colours + A Sentiment:
Linen card
I printed the image and sentiment onto the card.
The image and sentiment come from
Harvest Bounty
courtesy of our sponsor
Doodle Pantry
coloured with promarkers I have used distress inks for the sky and grass
 (Don't forget the sentiment!)
Please use an APPLICABLE SENTIMENT!
and see all the other wonderful DT creations.